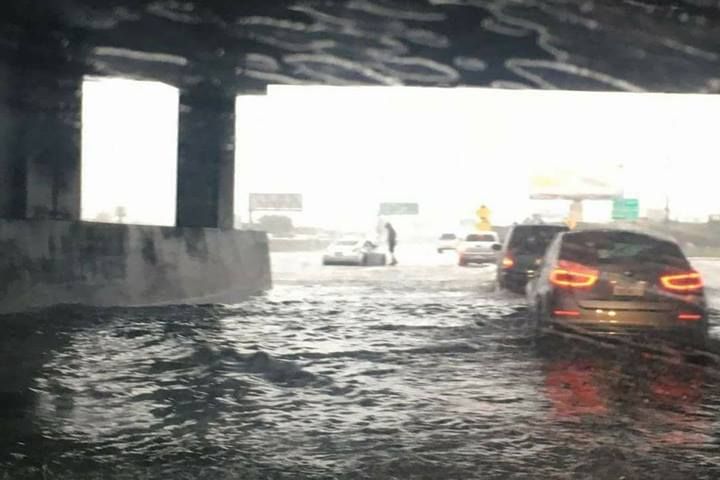 The worst of the storms have passed through Los Angeles County. Though there are still flash flood warnings in place for the area, the National Weather Service is expecting scattered showers and thunderstorms, but also some sun.
The weather certainly won't as intense as Sunday's heavy downpour, which brought flooding to parts of LA and to freeways. That has begun to subside. Traffic restrictions have been lifted along segments of the 710, 405, and 110 freeways that were closed yesterday due to flooding. An updated map of road closures can be found here.
There are still lingering trouble spots. At LAX, where cars have been rerouted, it's a mixed bag. Some problem areas are clear of flooding while others remained closed, says the LAX airport police.
In the Valley, the Sepulveda Basin is almost entirely open. In the Santa Clarita Valley, residents in areas burned by recent wildfires who were evacuated will be allowed to return home this morning. According to the City of Duarte's website, there are still 180 homes in the Fish Fire burn area that are still under evacuation orders, and school was cancelled today for one local elementary school.
The area was slammed Sunday with one of the strongest storms in years, triggering flash flood warnings across most of the southern part of the metro area—where nearly 2.5 inches of rain have fallen in the last three hours.
Metro announced delays along the Silver Line as buses detoured to avoid the flooding.
Flooding in the valley forced numerous road closures around Sepulveda Basin, including Burbank Boulevard between Balboa and the 405 (including ramps) as well as Victory and Woodley.
READ MORE and see VIDEO
Chenee Coleman
The Collective Realty
310-736-5128
chenee@theCollectiveRealty.com
www.theLAHomeShop.com
DRE: 01916085